Renovating your home or business? Considering an electrical upgrade? Adding wiring for a special configuration? Curious about indoor and outdoor lighting options? If you answered yes to any of the questions, you've come to the right place! Here at E&B Electric, we strive to provide our Dallas-Fort Worth clients with a wide range of services, including lighting remodels. Whether you have owned your home or business for many years and are simply in need of a lighting upgrade, or are moving into a new space with outdated lighting, give us a call. We are committed to providing each and every client with high-quality, reliable service, no matter how big or small the project.
No lighting remodel is complete without the help of reliable, industry-leading electrical installations and lighting. The licensed electricians at E&B Electric understand how important it is for you to get have your indoor and outdoor lighting needs met in an efficient and cost-effective manner. This is why we take the time to work with you throughout every step of the process, beginning with the design phase and ending with putting finishing touches on the lights and electrical wiring on your home or business remodel, addition, or renovation. We strive to ensure your lighting remodel project remains on deadline and within your budget.
Lighting Remodel Services
Before we do anything else, we will carefully inspect your home or business to determine what type of electrical work and wiring is needed for your lighting remodel project. If you are seeking an indoor lighting remodel, we will inspect the electrical panel, outlets, and wall packs to ensure everything is safe and up to code. At this point we will work with you to come up with a design and layout that will fit your style and requirements. Our lighting technicians make it a point to work closely with our clients throughout every step of the process to ensure no steps are missed. Here is a look at some of our indoor lighting remodel services:
Recessed lighting
Outlets
In-cabinet lighting
Receptacles
Wall packs
Installation of USB ports
Under-cabinet lighting
Hallway and staircase lighting
Three-way switches
Dimmers
Panel upgrades
….and more!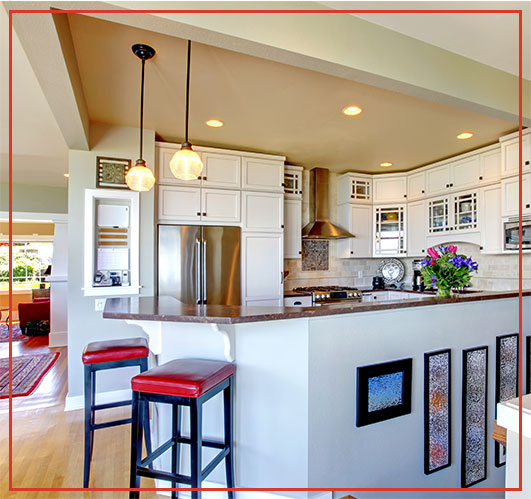 This is just a brief look at some of our indoor lighting services. If you are in need of a remodel or upgrade that is not listed above, give us a call! We are happy to work with you and come up with the right solutions to meet your lighting needs.
In addition to indoor lighting remodel projects, we also offer outdoor lighting services. Some of our outdoor lighting capabilities include:
Pole lighting
Burying and repairing below-ground wires
….and more!
To learn more about our Dallas-Fort Worth lighting remodel services, please do not hesitate to contact E&B Electric today and schedule a consultation. We look forward to hearing from you!